Akhmat Race 2017
07.10.2017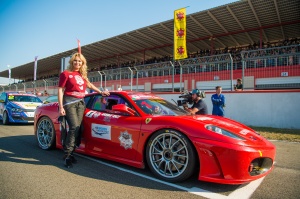 Akhmat Race 2017
It was the Big Race Weekend named after the first President of the Republic, Akhmat Kadirov - Akhmat Race. That was a marathon of a duration of 100 circles. It's worth mentioning that it was the first competition of this kind held at Grozny Autodrom.

Many famous pilots took place in the race: many of them had an experience in Worldwide championships. We should underline that some
women pilots also performed in a race. One of them, Natalia Freidina, is Russian pilot and also the Head of Russian FIA Committee "Women in Motorsport". Natalia was driving in the team with Karim Al Azkhari, seven-times champion in GT series of United Arabia Emirates. Their
Ferrari fulfilled all the expectations and was the first car that crossed the finish line and took the first position in GT class.
The common number of racing teams was 26 with 59 racers. During the 3-hours long competition performed cars of Russian and worldwide
production of different classes. The winner took the Golden Cup of Akhmat.
back to the newslist